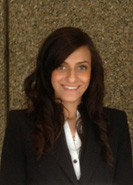 Rebecca Bardaxis
Principal Partner at Atteya Bardaxis & Associates
E: [email protected]abalaw.com.au
Linked In: Rebecca Bardaxis
Qualifications
Masters of Dispute Resolution (MDR)
Bachelor of Laws (LLB)
Bachelor of Communication Studies (B.Comm Studies)
Graduate Diploma of Legal Practice (The College of Law)
Certifications/Memberships:
Admitted to Practice in the Supreme Court of New South Wales

Admitted to Practice in the High Court of Australia

Member of the Law Society of New South Wales

Honorary Solicitor Friends List (Salvation Army)

National Breast Cancer Foundation (Provision of Bequest Information)
Rebecca commenced her legal career practicing in the areas of Commercial Law, Civil litigation, Building and Construction, Wills, Care and Protection, Family Law, Property and Conveyancing.
In 2014, Rebecca and Liz formed Atteya Bardaxis & Associates with a shared vision to approach legal disputes from a collaborative and facilitative position; in order to provide clients with efficient, cost-effective, and strategically tailored legal advice.
Rebecca conducts legally aided work and is appointed to the General Family Law Panel. She also provides legal services and assists the Salvation Army in undertaking various pro-bono work, is appointed to the Honorary Solicitor Friends List with the Salvation Army, and also provides information with respect to the National Breast Cancer Foundations Bequest Program.
Rebecca has a history of forming long-lasting client relationships as a result of her excellent communication and organisational skills. She is also empathetic and understanding of the issues which many clients face and as such will always provide quality legal service.
Our promise to you….
We will assist you to Re-establish, Restore and Rebuild, as your success is our success.